Buy Now, Pay Later services could replace credit cards
Younger Australians are flocking to Buy Now, Pay Later services but they still present risks for the unwary.
It's no surprise that the popularity of Buy Now, Pay Later (BNPL) services has boomed in recent years given how simple they are to use: download the smartphone App, punch in some basic details, and start spending.
The service, which is connected to a large range of retail stores, generates a random barcode which the cashier scans. It has shown to be highly favoured by younger Australians who often don't qualify for a credit card and remain wary of debt (BNPL services are usually connected to a debit card).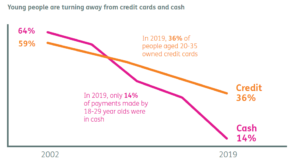 Source: HILDA, RBA data, Afterpay AFR Retail Summit
BNPL services can be used just as easily online, which is driving even more growth in the wake of the COVID-19 pandemic.
"While remaining cautious in our ongoing response, it is clear that Afterpay's predominantly e-commerce and budgeting-focused service has been a net beneficiary of the significant shift to online spending and the shift away from traditional forms of credit," Afterpay recently said in its 2019-20 annual result announcement.
The skyrocketing share prices of platforms like Afterpay, which doubled in value this year, is a clear witness to the demand and hype.
But the simplicity can come with a sting in the tail. Credit cards charge consumers interest on purchases but BNPL schemes charge late fees if repayments aren't made on time, which can quickly add up.
"One in six users had either become overdrawn, delayed bill payments or borrowed additional money because of a buy now pay later arrangement," according to an ASIC review of the sector.
One reason is that BNPL schemes encourage greater spending, which is a key reason retailers offer the service. Afterpay charges major merchants such as David Jones, Harvey Norman and Target 3-7% on each BNPL transaction.
The bottom line for consumers is that BNPL services provide convenient credit in an instant. However, they can be a double-edged sword that could deepen the financial despair for those who don't read the fine print.
BNPL falls outside of consumer protection regulations
BNPL services share many of the same characteristics of credit but don't fall under the National Consumer Credit Protection Act because they don't charge interest on purchases.
The act, which is overseen by ASIC, regulates credit issuers to ensure money is not loaned to people who are unlikely to have the ability to repay the debt.
It means BNPL services aren't required to perform a credit check, which is standard practice for organisations offering debt products such as credit cards. They also don't have to comply with consumer protections such as responsible lending, external dispute resolution membership, or help customers repay their debt.
A Senate inquiry into Financial Technology and Regulatory Technology in September surprisingly recommended against introducing more stringent credit checking regulations on BNPL schemes.
"Because innovation like 'buy now, pay later' often occurs on the fringes of regulation, it is inappropriate to force each innovation into a one-size-fits-all approach," the Committee said in its interim report.
The main repayment checking process undertaken by BNPL schemes is based on a consumer's repayment history with the service – if you fail to make a repayment you can't use the service until that amount is paid. Most services will also limit your maximum credit if repayments are consistently late.
Article by Future of Advice
Article link – https://www.futureofadvice.com.au/2020/11/27/buy-now-pay-later-services-could-replace-credit-cards/
This information is current as at November 2020. This article is intended to provide general information only and has been prepared without taking into account any particular person's objectives, financial situation or needs ('circumstances'). Before acting on such information, you should consider its appropriateness, taking into account your circumstances and obtain your own independent financial, legal or tax advice. You should read the relevant Product Disclosure Statement (PDS) before making any decision about a product. While all care has been taken to ensure the information is accurate and reliable, to the maximum extent the law permits, ClearView and its related bodies corporate, or each of their directors, officers, employees, contractors or agents, will not assume liability to any person for any error or omission in this material however caused, nor be responsible for any loss or damage suffered, sustained or incurred by any person who either does, or omits to do, anything in reliance on the information contained herein.